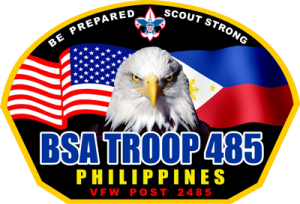 Welcome to Boy Scout Troop 485
Troop 485 was established in 2013 and chartered by Veterans of Foreign Wars, Post 2485, located in Angeles City, Philippines. Boy Scout Troop 485 is part of the East Asia District in the Far East Council of the Boy Scouts of America.
Why Join Our Troop?
Do you want to go on high adventure trips or scuba diving? Do you want to learn wilderness survival skills?  Ride horses? If you can see yourself doing these activities, or if you just want to become a better person and leader, Troop 485 is the place for you. Boy Scouts is about building character, developing personal fitness, learning leadership and citizenship. These goals are achieved in the outdoors. The adventure of hiking, camping, swimming, boating, high-adventure challenges, and touring is woven into the program.
We welcome prospective Scouts to any of our meetings.  We are located in Angeles City, Philippines.  Please see the "Meetings" at the bottom of any page for our meeting location, or the Outdoor Calendar and our Master Calendar for our various activities.  Contact Us here to learn more!
Scout Meetings
Meetings are held on a regular basis, all year long, on Saturday mornings from 10AM to 12noon in the meeting hall of VFW, 381 Santol Road  (Corner Santol Rd. & Pinatubo St.) Clarkview Subdivision, Angeles City, Philippines.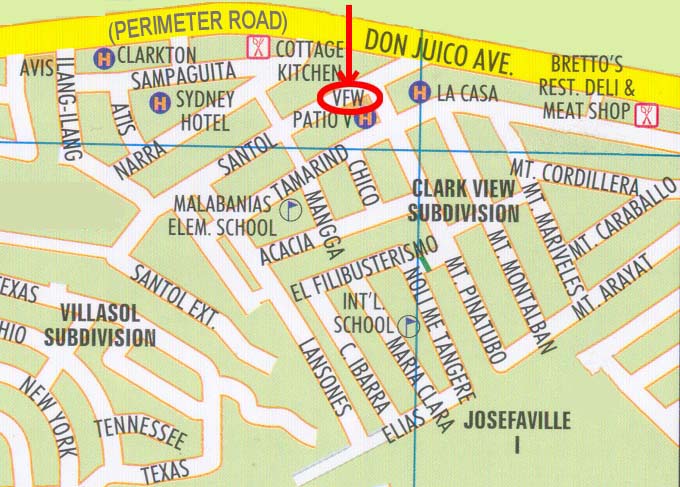 Regular attendance is expected for all boys who join our troop. In the event school is cancelled due to inclement weather, scout meetings are also cancelled. Parents are expected to arrange transportation for their scouts to and from meetings. A Master Calendar listing monthly troop activities and local scout activities is distributed regularly and updated as changes occur here on our website. It is important that this calendar be retained as attendance at scout functions ensures a successful scouting experience.